The absolute symbiosis between the pig and the history of Felino goes back to the Bronze Age, as documented by the bone fragments found in the remains of the Monte Leoni 'terramaricolo'  village situated in the hills above the village.
In particular, the first document relative to Salami found in Parma is dated 1436 when Niccolò Piccinino, a mercenary soldier in the pay of the Duke of Milan who had one of his operative bases here, ordered that 20 pigs suitable for making salami  'porchos viginti a carnibus pro sallamine', be  procured for him.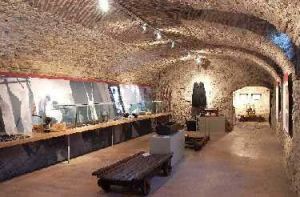 Felino Salami Museum, inside
In the past the preparation of a salami with a full, rich yet not salty taste was not easy to accomplish: in order to avoid undesirable fermentation in fact, a great deal of salt was added to the salami mix.
In the Parma area, instead, a technology was developed which exploited the characteristics of the land allowing for salami to be made using a limited quantity of salt: the optimum quality salt was produced in nearby Salsomaggiore and the position of Felino at the mouth of the Baganza river valley made it ideal for the production of excellent cured pork meat products thanks to its features of temperature, humidity and air circulation.
The preparation of salumi (cured pork meat products) also encouraged the development of pig breeding locally: the number of pigs increased consistently over the centuries, to the extent that in the second half of the XVIII century in Felino there were about 2,200 inhabitants, 1,400 pigs and 5 producer-sellers of salami and cured meat products in general.
In the XIX century the situation changed and pig breeding began to be concentrated near the dairies or cheese production plants in the area: Felino opted decisively for the transformation of pork meat rather than for pig breeding, to such an extent that at that time more salumi producers were registered here than in any other municipality of the Parma area.  At this time the Parma cured meat products were also sent to Lombardy: around 1897 the generically known "Parma" salami was declared "from Felino", in order to underline its quality as a product prepared with pork meat from mountain-bred pigs fed on acorns.
The increased production capacity realised over the course of the 1900's thanks to modern technology, while maintaining the particular characteristics of the Felino salami, has allowed for greater volume which is about to reach the level of 8,000 tons per year.