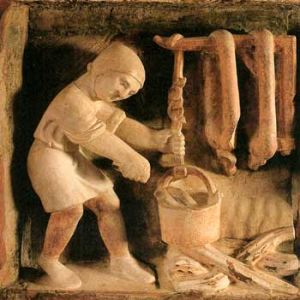 XIII Century
Benedetto Antelami reproduces  Salami tipo Felino in the bas-relief illustrating   the Zodiac sign of Aquarius inside the Baptistery of Parma

XVII Century
In 1659 Carlo Nascia, chef at the court of Ranuccio II Farnese, alludes to Prosciutto and Felino Salami in his cookbook Li Quattro Banchetti.
XVIII Century
The Prime Minister of the Duchy of Parma, Guglielmo du Tillot draws up plans for building  two slaughter houses exclusively for pigs in order  to increase and further valorize the local cured meat industry. The first still life appears with raw Salami; up to this moment it had been eaten after cooking.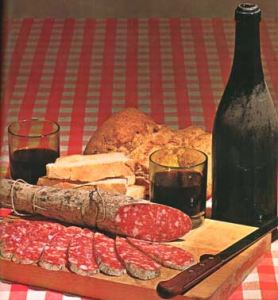 XXI Century
2013: On March 5 Felino Salami has been awarded of the trademark of Protected Geographical Indication (PGI) of the European Communities .